XENON LIGHT SOURCES
The M-X100 / M-X180 / M-X300 offers the professional user the
most advanced pure day light sources (5600°K colour temperature). It contains an improved high intensity and low heat conductive xenon lamp.
LAMP
The built-in lamp is a specially developed xenon gas discharge lamp, filled with non-polluting xenon gas. The lamp design is optimized for endoscopic applications. Its design features a high efficiency reflector (and lens-system MX300) which focusses light more effectively on the fiberoptic light guide. When the lifetime of the lamp has expired, the lamp is simply replaced by a new one within minutes - no tools and no adjustments are required.
LIGHT CONTROL
The output intensity is controlled steplessly via a motor-driven, mechanical diaphragm. This ensures a constant colour temperature. The output intensity is set by push buttons.
TURRET adapter (optional)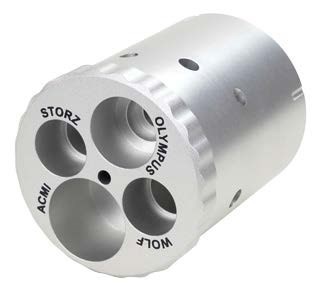 CONNECTION
An interchangeable adapter system for all types of endoscopes, fibrescopes and microscopes ensures that the light sources can be operated in all applications. For more flexibility the light source is available with a TURRETadapter system. The TURRET-adapter contains four adapters (Storz / Wolf / Olympus / ACMI) in a simple turning mechanism.